ENTP The Visionary
Extraverted iNtuitive Thinking Perceiving
Is this you?
Creative and smart
Charming
Value your freedom
Not afraid to question everything
Like to create ideas and theorize
Don't like to be controlled
Competent and highly knowledgeable
Innovative and ingenious at problem-solving
Able to juggle different tasks simultaneously
Able to make sense of things that may be hard to understand for others
---
Want to learn more about yourself?
Find out everything about your personality in your 21 page ENTP Premium Profile below!
---
ENTP – The Visionary Premium Profile
Your ENTP Premium Profile covers all of life's important topics in relation to your personality.
Strengths and Weaknesses
Discover all of your personality's strengths and how to leverage them. See your personality's drawbacks and learn how to overcome them. If you're interested in personal growth, the Premium Profile will show you the secrets to fully unlock your potential including the 10 cardinal rules you should live by!
Life and Love
If you're looking for a partner, your full profile will show you how to find love and have a happy relationship. You'll find out how to make a better first impression and improve your dating experience. If you're in a relationship, you'll learn how to be a better partner. You will also read about parenthood and how you can be a great parent.
Career Choices
Looking for a (new) career? With the Premium Profile you'll discover:
Your optimal career choices
Career choices you should avoid
Your positive and negative work habits
Your type's management style
How you are perceived as a colleague or subordinate
Most importantly:
You'll find out the secrets on how to fully unlock your potential!
What you'll get:
– 21 page PDF file
– Print ready
– Readable on any device
– Instant download
14-Day Money-Back Guarantee
If you're not satisfied with your Premium Profile, we'll give you your money back. No questions asked. During the first 14 days, we'll refund your payment in full.
What others say:
JM says:
June 17, 2019
So much insight
This book is giving me so much insight on why I think, feel, and do how I do, while also breaking down the Myers Briggs theory in a very understandable way. I'm very pleased!
Carol J Britt says:
June 7, 2019
It's comprehensive and worth every minute!
I love this book! It goes in depth into my personality and functions explaining why and how we do things but not in a stuffy or boring way.
Leslie says:
May 25, 2019
At 36 years of age I finally get myself !
Omg this is me, this is me ! What can I say – Firstly, well go out and download it right now. Secondly, years, seriously years of therapy for self esteem issues did not give me such a clear understanding and appreciation of myself.
TJ says:
May 12, 2019
Great read.
Very enjoyable as the profile describes me to the "T". I like that it gives you tips and suggestions to improve your weaknesses. I also like that it makes me feel more okay with myself… after all some of my behaviors are simply in my DNA!
ENTP Premium Profile
See below for examples of what you'll find in the Premium Profile: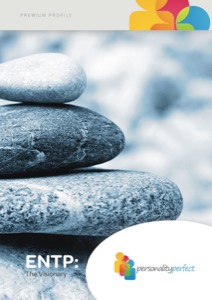 Discover an easy and proven way to help guarantee your future health and happiness.
->Buy the Premium Profile.
You will love the results!